Upcoming 2014 Performances:
Come hear THE MAGNOLIA KLEZMER BAND and eat, drink, dance, clap, shake, or listen!
Sunday, January 19th, Magnolia Klezmer@Carolina Meadows Retirement, Chatham County, NC - 2pm
Watts St. Band - March 15, Saturday, Erev Purim Party, Beth El Synagogue, Durham, NC - 9:30pm
Sunday, May 11th, Combined concert w/ Triangle Jewish Chorale and Magnolia Klezmer, Jewish Community Center, Cornwallis Road, Durham, NC - 3pm
Sunday, June 1st, Southern Village on the Green, 7-9pm, Chapel Hill, NC
Sunday, June 8th, Weaver St. Market Jazz Brunch, Carrboro, NC - 11 to 1pm
Thursday, June 26th,

Holocaust Memorial Outreach @Cardinal Gibbons HS, Raleigh, NC - 8pm
(private)
Check out The Magnolia Klezmer Band Facebook page!
Based in the Triangle area of North Carolina, The Magnolia Klezmer Band performs Eastern European Jewish music from Romania, Moldava, Russia and the Ukraine, classics from the American WW1 era: Kandel and Abe Schwartz Orchestras, and Yiddish theater songs with vocals in Yiddish and English.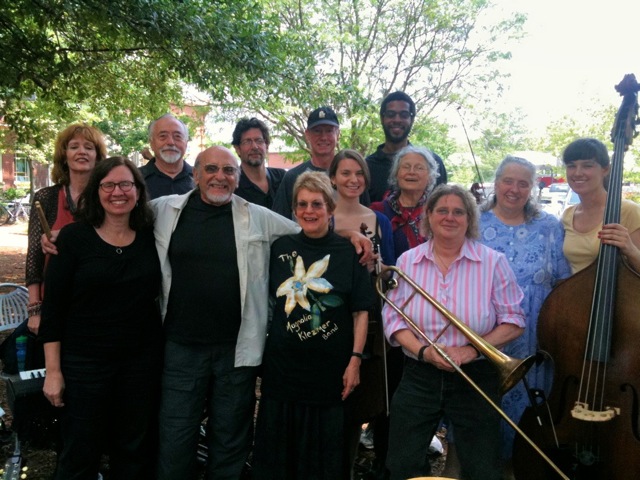 "Weaver St. Market Jazz Brunch 2011" - Photo by Walt Robinson
Back Row - L to R - Shelley Higgins, Bernie Most, Mel Freedman, Bill Erchul, Jordan Hutchinson. Front Row - L to R - Julie Gorka, Elliott Mills, Sandy Mills, Leah Schinasi, Cosi Long, Wilma Wallmark, Joan Bursey, Catherine Steele (Not shown - Richard Cooper)